---
Model Inputs \(\rightarrow\) Health System Parameters \(\rightarrow\) Starting Delivery Site
Overview
Women may deliver either at home or in a facility. Medical facilities are classified by the level of emergency obstetric care (EmOC) they can provide. Basic EmOC (BEmOC) is comprised of six signal functions which include administration of injectable antibiotics, oxytocics, and sedatives/anti-convulsants, performance of manual removal of placenta, removal of retained products, and assisted vaginal delivery. In addition to these six signal functions, comprehensive EmOC (CEmOC) offers blood transfusion, surgical capability, and management of shock.[1] The WHO recommends a minimum of 5 EmOC (combination of BEmOC and CEmOC) facilities per 500,000 population, where at least 1 is comprehensive.[1] Delivery sites are split into 5 categories in the model: Home, Home - Skilled Birth Attendant (SBA), non-EmOC, BEmOC, and CEmOC. The starting site determines what preventative care a woman may receive (if any), thus potentially reducing her risk of delivery complications, and influences the probabilities that a complication may be recognized, referred, and transported.
Data
Facility Delivery
We analyzed delivery site (home vs facility) from DHS data (variable m15) for 1,717,203 women in 75 countries from 261 surveys. We supplemented this with country-level data from the Global Health Observatory on births attended by skilled health personnel for 108 countries not available in the DHS data.[2] We use the data on skilled birth personnel as a proxy for facility delivery. We used the same priors for all subgroups in these (non-DHS) countries. From both sources of data we obtained estimates for 183 countries between 1990 and 2018. For "Home SBA", we considered SBA as reported in DHS as a doctor or nurse/midwife. Overall, few women delivered at home with SBA (about 3.5% globally). We estimated the probability of SBA given home birth among 684,977 women in 75 countries from 257 DHS surveys. Due to lack of DHS data for high income countries we used the priors for upper middle income countries.
Facility Type
To estimate the distribution of EmOC facilities we undertook a targeted literature review, summarized here by continent.
Parameters
We used hierarchical logistic regression models to estimate priors for facility delivery and home-SBA based on the DHS data, and for EmOC status based on estimates from the literature. Modelled EmOC status probabilities are renormalized so that they sum to 1.0. While needs assessments often report the number of types of facilities, these counts do not account for the volume of deliveries by facility. When the percentage of deliveries by EmOC vs non-EmOC was reported, we used data on facility breakdown to set priors for the relative breakdown of deliveries by EmOC status. When only facility counts were available we assumed that CEmOCs have 2x the delivery volume of BEmOCs, and that BEmOCs have 2.5x the delivery volume of non-EmOCs when setting priors.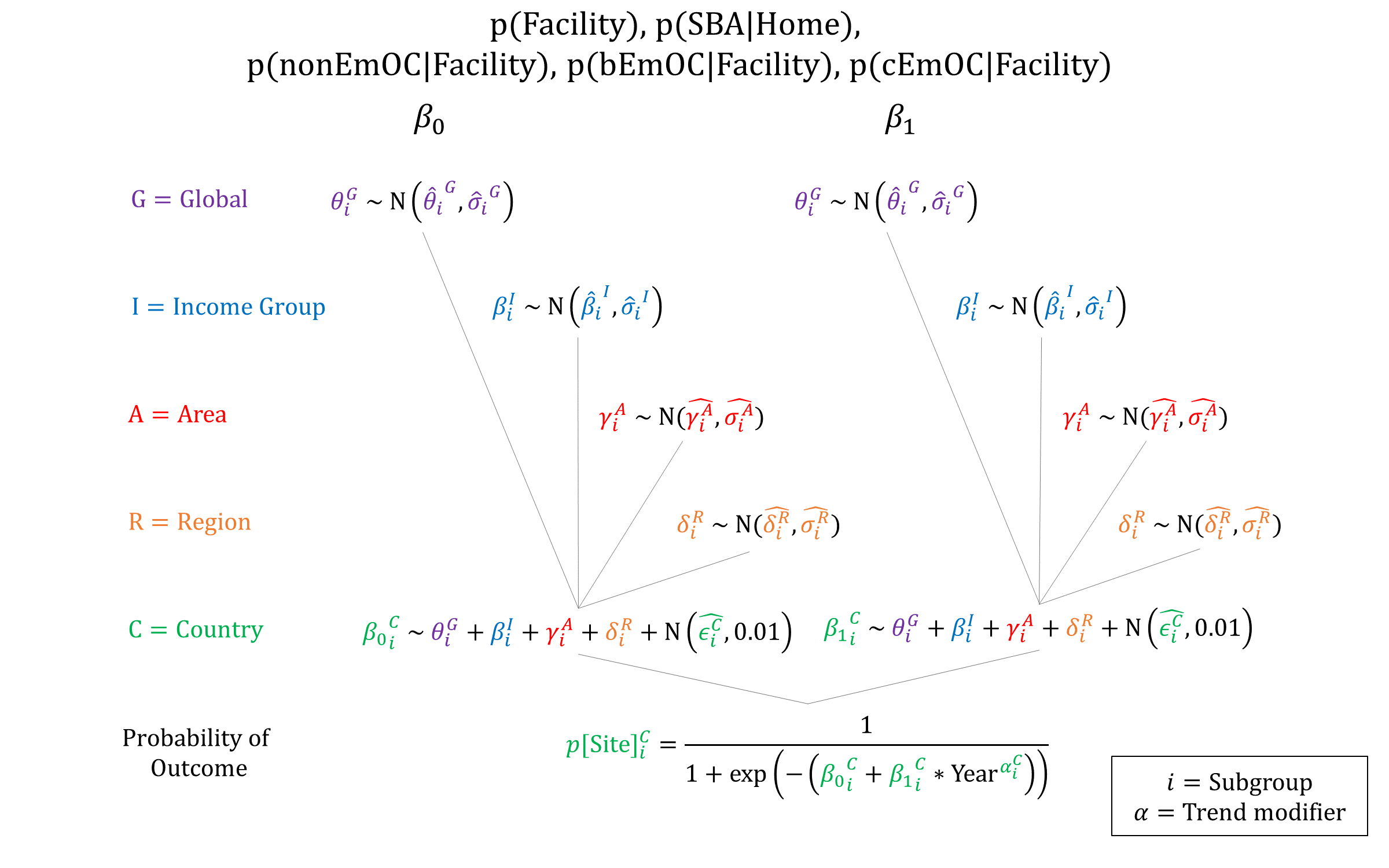 Priors