---
Model Inputs \(\rightarrow\) Obstetric Complications \(\rightarrow\) Postpartum Hemorrhage
Overview
Maternal hemorrhage is defined generally as severe bleeding that occurs during pregnancy (ante-partum), labor, or post-partum. Bleeding after childbirth (postpartum hemorrhage, PPH) comprises the majority of maternal hemorrhage cases. After a woman gives birth, womb muscles should contract, clamping down on the blood vessels and helping to limit bleeding when the placenta has detached. If the muscles do not contract strongly enough, very heavy bleeding can occur, which can be life threatening.[1]
PPH is defined as blood loss from the genital tract of 500 mL or more in the first 24 hours after the delivery of the baby, and severe postpartum hemorrhage is defined as blood loss from the genital tract of 1000 mL or more in the first 24 hours after the delivery of the baby.[2] Levels of very severe PPH (2500 mL or more) have also been discussed, but no data exist for this outcome.[3] However, it is commonly acknowledged that 500 mL is an arbitrary cut-off and may not be clinically significant.[4] For example, the American College of Obstetricians and Gynecologists have revised their definition of PPH as at least 1000 mL of blood loss with signs of hypovolaemia to account for levels of blood loss more likely to correlate with maternal morbidity.[5]
Clinical signs and symptoms of blood loss (also used for diagnosis) include weakness, sweating, and tachycardia (i.e., fast heart rate), with hemodynamic collapse (i.e., loss of adequate blood pressure to get blood and oxygen to vital organs) occurring at losses of between 35% and 45% of blood.[6] Among the 5 major direct causes of maternal death, PPH is the most rapidly fatal with an estimated 2 hour interval from onset to death if untreated, which highlights important considerations for prevention of deaths.[7]
Common causes of PPH include failure of the uterus to contract adequately after birth (atonic PPH), which accounts for 90% of PPH in most countries; trauma to the genital tract (traumatic PPH), which accounts for about 7% of PPH; and bleeding due to retention of placental tissue and failure in the coagulation system, which accounts for the remaining 3%.[8]
The initial management of PPH includes assessment and treatment of shock through administration of oxygen and fluids, and specific management of the cause of PPH, followed by referring to a higher facility where blood transfusion and operative delivery, if needed, are available.[9]
Antepartum hemorrhage
Antepartum hemorrhage (APH) is defined as bleeding from the genital tract in the second half of pregnancy (but before birth).[10] The most important causes of APH are placenta previa or placental abruption,[11] although these are not the most common.[12] APH complicates an estimated 2-5% of pregnancies.[13] However, there are no consistent definitions of the severity of APH.[12] We do not currently include antepartum hemorrhage as a separate complication in the model due to insufficient data on its epidemiology and its relatively small impact on maternal mortality.
Data
Incidence
There have been several studies, including systematic reviews, of the incidence of maternal hemorrhage under different management interventions, with some reporting severe PPH as an outcome and some reporting blood loss. There are two ways to estimate natural history incidence from these studies: (1) if there is an arm of the trial with no treatment (generally there is not), (2) if there is an arm in the trial with expectant management only (this estimate can be adjusted by applying the reduction in PPH with expectant management versus no management).
We used a number of studies to explore the total reported incidence, and the severity distribution of maternal hemorrhage. Studies vary in their definition of "severe" but most rely on blood loss >1000 ml. There is clearly heterogeneity among these "severe cases" in that some of them will be associated with rapid death from massive blood loss and very high case fatality rates. Others will still have a higher CFR compared with <500ml but not as high as the most severe cases.
In the 2000 GBD, the authors calculated an incidence of severe PPH of 10.5 per 100 live births, and 11.98 per 1000 women 15-49 for SEARO-D. This only included severe cases with >1000ml blood loss. They assumed that in SEARO-D only 20% of women would have access to active management of labor and the births covered by SBA would be expectantly managed. They also assumed that severe PPH within 1 hour represents 90% of all severe PPH, and inflated their estimates accordingly. In this GBD study, described in Dolea 2003,[14] the authors used clinical trial evidence from a large study of uterotonics (MISO trial). In that trial, severe PPH, defined as >1000ml of blood loss within 1 hour of delivery, occurred in 2.85% of patients in the oxytocin arm who were actively managed.[14] To calculate the incidence that would have occurred without active management, the GBD method used findings from a Cochrane review that active management with oxytocin results in a relative risk of severe PPH of 0.33 compared to expectant management. This review has since been withdrawn due to concerns regarding the validity of these findings.[15] However, a newer study showed an estimate of 0.34, implying that the updated results would be similar.[3] The GBD method thus assumed the fraction of deliveries managed expectantly by SBAs would be twice as much as active management (5.7%),[14,16,17] and twice as high again with no SBA present (11.4%).[18,19,20,21,22]
In one of the largest systemic reviews covering the period 1997-2006, Carroli (2008)[8] included 24 studies from the WHO database covering a period of 1997-2002 and an additional 166 reports assessed (from 2003-2006) with 14 included (total = 38) for a total of 224 datasets. These were stratified by those that reported PPH (n=120) and those that reported severe PPH (n=70), with severe PPH being defined as blood loss >1000 ml. Overall quality was deemed adequate for ~47% of PPH datasets and ~59% of severe PPH datasets. Overall prevalence of PPH was 6.09% (95% CI 6.06-6.11), rising to 10.55% when the blood loss was measured objectively. Overall prevalence of severe PPH was 1.86% (95% CI 1.82-1.90), rising to 3.04% when the blood loss was measured objectively. A high degree of heterogeneity was reported even in subgroups with similar characteristics. Another systematic review found a global prevalence of blood loss equal to or greater than 500 ml of 10.8 percent in vaginal deliveries (95% CI 9.6-12.1); the prevalence of severe hemorrhage (equal to or greater than 1,000 ml) was 2.8 percent (95% CI 2.4-3.2).[23] The review included many study settings in which active management of the third stage of labor was practiced, suggesting that the incidence of postpartum hemorrhage under natural history conditions (ex: home deliveries) is probably higher.[24] Indeed, under expectant management, Carroli 2008 reported that PPH prevalence was 17.96% (95% CI 16.97-18.95).[8]
Morbidity/Mortality
DCP 2 estimated a CFR for severe PPH (>1000 mL) of 1.0%, assuming that no intensive care was available.[25] However, data from India suggest that, in rural India, the case fatality rate for overall PPH is at least 4 percent,[26] while data from a teaching hospital in Nigeria indicate a case fatality rate of 2.2 percent.[27] In rural areas and in non-hospital settings in Nigeria - where most births in that country occur - a far higher rate would be expected. Reports of case fatality rates ranging from 2 to 8 percent have been reported from different African settings.[28] Experts have also estimated that 25%-50% of women would die with the most severe forms of PPH and no access to treatment, and that case fatality rates in general are higher for women with anemia and with >1000ml blood loss.[28]
Other setting-specific studies typically find higher case fatality rates as well. One analysis estimated a CFR in sub-Saharan Africa of 15% for severe PPH.[29] A study of hemorrhage in a North Indian tertiary care hospital found that of 178 women with early postpartum hemorrhage who either delivered in or were referred to a hospital after delivery, 94 women died (nearly 50%), with early PPH accounting for 11.7% of the deaths, and 19 women experienced "near-miss" morbidities due to early PPH.[30] A prospective observational study in a tertiary referral hospital in Kolkata, India found a CFR of 7.5%.[31] A Nigerian study found that evidence-based management guidelines for PPH reduced the CFR from 13.6% to 2.5%, implying that the higher CFR would be a closer to natural history conditions.[32] A retrospective review of 8 hospitals in Malawi found a CFR of 7-10%,[33] while a 10-year review of a hospital in Ethiopia found a CFR of 9.3%.[34] Other reported CFRs for hemorrhage range between 2.8% to 27.3%.[35]
In addition to mortality risks, Sheehan's syndrome is a well known complication of PPH, which can present with chronic symptoms after a relatively long latent period, including failure to lactate, mild headache, fatigue, nausea, and amenorrhea.[36] While the exact incidence of Sheehan's syndrome is unknown and it rarely occurs in modern obstetric practices,[37] it is estimated to occur in 1-2% of women who lose 1-2 L of blood with associated hypotension.[38,39]
Women who survive PPH are also at risk for developing anemia. It was estimated that globally, 12% of women who survive PPH develop severe anemia.[40] A systematic review of articles published between 1990 and 2009 revealed a higher prevalence of anemia in women who had experienced hemorrhage, irrespective of the timing of measurement post-partum.[41] In high-income countries, women who had a hemorrhage were at 5.68 (95% CI 5.04-6.40) times higher risk of post-partum anemia than women who did not, while in low-income countries, the prevalence of anemia was 1.58 (95% CI 0.96-2.60) times higher.[41]
Parameters
In order to capture a higher risk of death from extreme blood loss, we model three levels of PPH severity: Moderate, Severe, and Most Severe. We constrain incidence to decrease by severity, and risk of morbidity/mortality to increase by PPH severity when sampling parameters.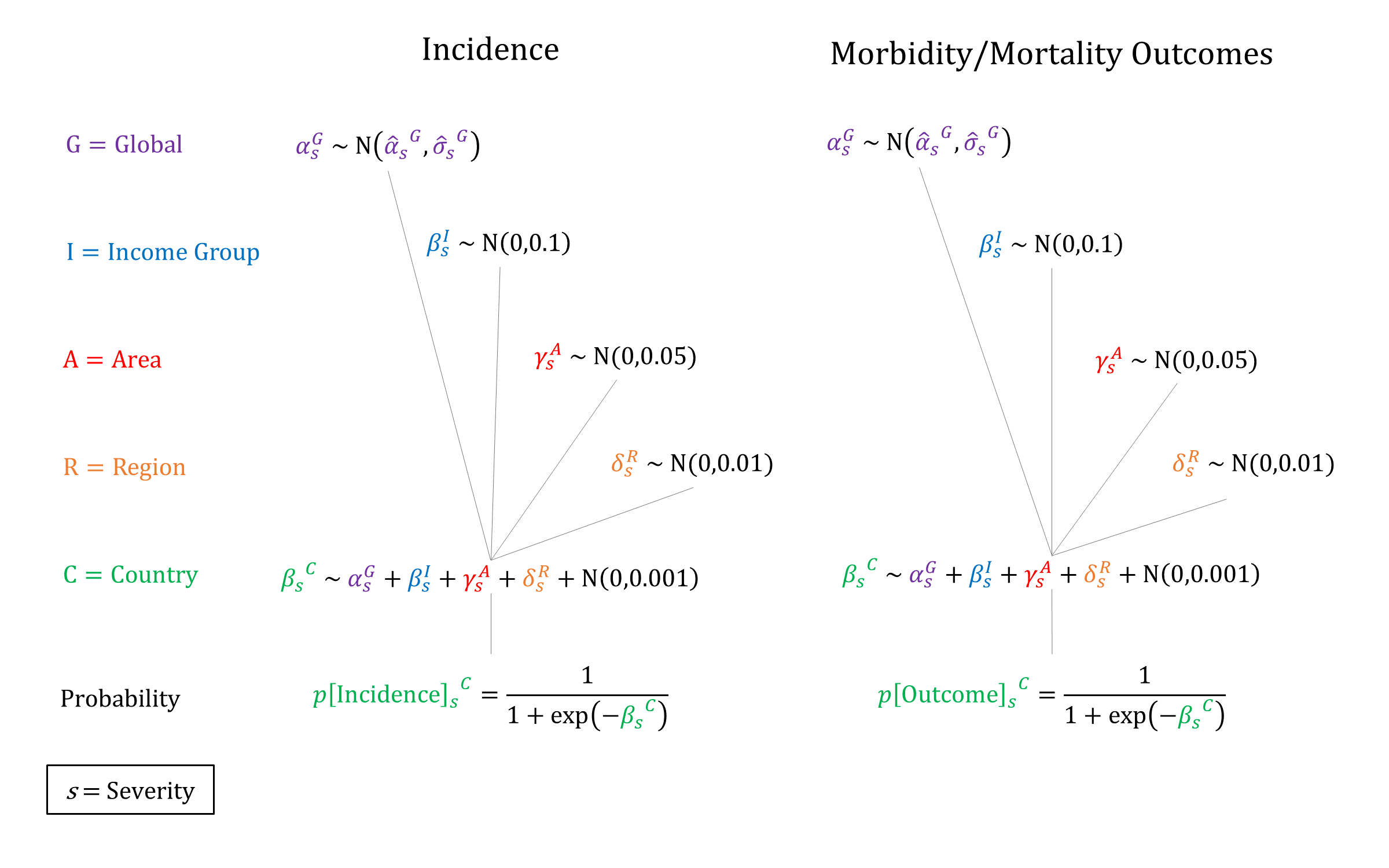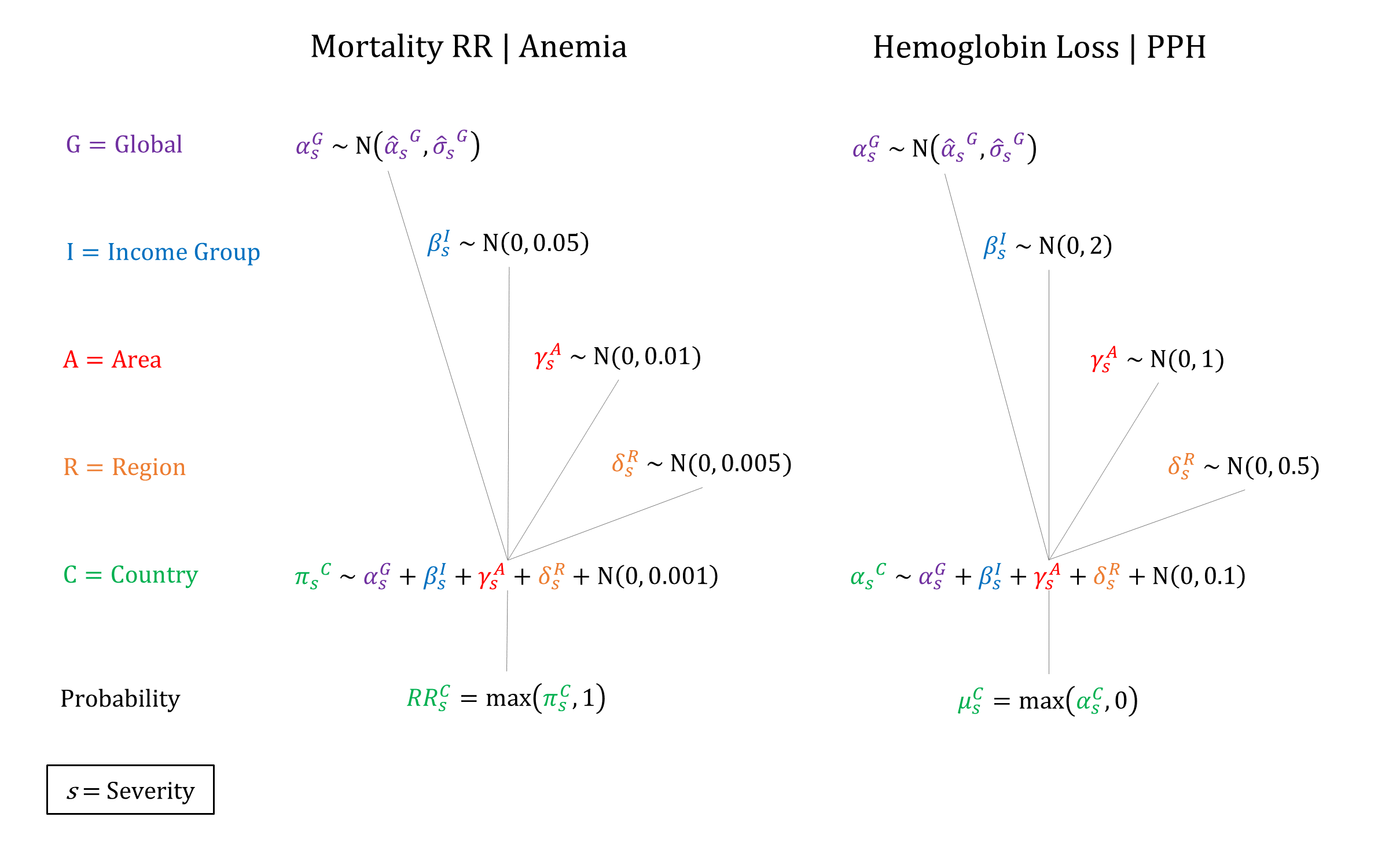 Priors
Model Implementation
At the time of delivery, the incidence and outcomes of PPH are simulated, together with the availability and efficacy of interventions that modify the 'natural history' probabilities. We assume that women who develop Sheehan's syndrome are infertile in the model. We also include a parameter to reduce hemoglobin levels (i.e. increased risk of anemia) for women who survive PPH.
---
GMatH (Global Maternal Health) Model - Last updated: 28 November 2022
© Copyright 2020-2022 Zachary J. Ward
zward@hsph.harvard.edu